Hi, new feature time! I'm in a huge ass review backlog now, and that only struck me after I've updated my Goodreads "to-review" shelf to a whopping forty. I need help. So CHIT CHAT is going to be a quick, casual conversation of some super overdue books!! My memory is getting fuzzy and I apologise beforehand if I get some details wrong.
I've separated ratings into how much I liked the book, and how good I think it is objectively. Because there's a big difference!
Die for Me by Amy Plum
Published May 15th 2011 by HarperTeen
Why I Picked This Up: This book had the CUTEST character interview ever.  I dare you not to melt like ice cream in summer after reading it!
WHEN Kate Mercier's parents died in a car crash, she and her sister moved to Paris to live with their grandparents. To regain her bearings in a new place with a shattered heart, she spends her time reading classics in Parisian cafés. Until she met Vincent in the City of Lights. 
Vincent is no normal human. He's a Revenant, and he's got his enemies… immortal, murderous enemies who are determined to destroy him and all of his kind.
MINI REVIEW
DAYUM, I'm not really sure how to rate this! I really enjoyed it back in 2012, but I was a noobie to YA then. Things were easily cool for me. On the surface, Die for Me has got Paris and revenants, basically zombies with an intrinsic obsession to give their lives for humans again and again, what's not to swoon for? Yeah… Well…  Look deeper, and this story is all about girl meets guy at the lowest point in her life, and then girl changes forever to revolve her life around his. Can you already see where this is going?!! Most characters in this book are predictable– Kate is stuck in self-pity after her parents' death for the good first 30% and Vincent is Edward Cullen 2.0, except French. If not for the cool revenant concept, and dynamic cast of side characters (LOVE AMBROSE & JULES), and unless you enjoy a plot reminiscent of Twilight, I'd say skip this one.
Amazon | Goodreads | @AmyPlumOhLaLa |
ENJOYABLE RATING: ★★★
HOW-GOOD-IT-SUBSTANTIALLY-IS RATING: ★★
Storm by Brigid Kemmerer
Published April 24th 2012 by Kensington
Why I Picked Up This Book: Another one sold by the character interview! And there was some kind of read-a-long happening at that time so why not?
ELEMENTALS!! That's all. These are magical people who can control the elements like Earth, Fire, Air, Water and Spirits. And the 4 Merrick brothers are some of them. 
After Becca gives a lacklustre performance in her self-defence class, she's horrified to hear the sounds of a vicious fight brewing in the dark parking lot. Caught between the urge to flee and help the outnumbered Chris Merrick, Becca's decision will change her life forever.
MINI REVIEW
HAHA that synopsis didn't give you much to go on, sorry not sorry :P This is a really fun book so no much explanation needed, just read and enjoy!
The characters must be the standout for this book. I was really amazed by how Brigid Kemmerer kept tabs on all SIX characters, and managed to make them all come to life in a mere 353 pages. Not only do we have five (count 'em, FIVE!) male characters you will go absolutely insane for, but the storyline of Storm is consuming and suspenseful, with bullies who are more dangerous than they really let on and cryptic Guides lurking in the background waiting to spring up and attack. Things that seem insignificant at first come to haunt you later on in the story and suddenly everything will make sense like a big conspiracy. Even though I figured some parts out, it didn't kill the thrill of exactly seeing it happen! Kemmerer, you are the queen of twisty stories. Can't recall WHY I didn't continue the series, but I have plans to do so one day :)
Amazon | Goodreads | @BrigidKemmerer |
ENJOYABLE RATING: ★★★★
HOW-GOOD-IT-SUBSTANTIALLY-IS RATING: ★★★★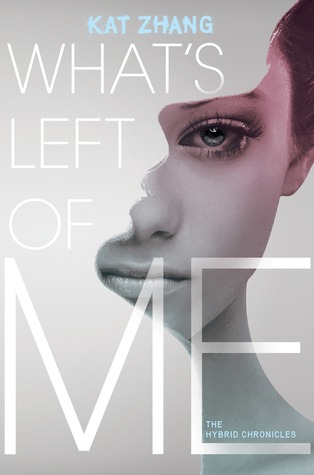 What's Left Of Me by Kat Zhang
Published September 18th 2012 by HarperCollins
Why I Picked This Up: That cover. I'm not usually a fan of faces on the cover but I think What's Left of Me did it so well! Please note the two faces on the cover.
IN a world where every body is born with 2 souls, Eva and Addie started out normal. But as they grew, so did the worried whispers. Why isn't one of them fading? The doctors ran tests, the neighbors shied away, and their parents begged for more time. Finally Addie was pronounced healthy and Eva was declared gone. Except, she wasn't.
MINI REVIEW
What's Left Of Me is a dystopian that surprised me with its achingly beautiful moments between 2 sister. Kat Zhang got my head warring with the so complex connection between Eva/Addie. With any sisters, there's a whole mass of love-hate-ugh-hugs relationship going on (trust me, I would know), and imagine that x10 for Eva/Addie! They are the closest you can get to tight-knit sisters, but Eva lives a life of longing what her sister has (a life, basically). Their strong, emotional yet difficult bond was the one thing that glued me to the story.
I'm not even sure how to classify this book! There's the element of an oppressive government, but it gives me more sci-fi-ish feels because of the soul duality concept, which was refreshing and extraordinary. Plotwise, things stagnated quite a bit around the middle, and I didn't quite get the ending. I can't remember the love interests so I presume they didn't play much role. Either that or they were unmemorable. Eh.
Amazon | Goodreads | @KatZhang |
ENJOYABLE RATING: ★★★
HOW-GOOD-IT-SUBSTANTIALLY-IS RATING: ★★★★
What do you think about this new chit chat feature? Would you prefer more in-depth reviews for each book? Have you read these books? Share your thoughts! Since all of them are series-starters (that I've read a looooong time ago), tell me if you think I should pick the series back up again!