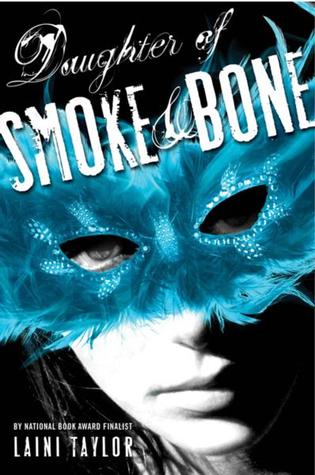 Daughter of Smoke & Bone by Laini Taylor
Published: September 27th 2011 by Little, Brown Books for Young Readers
Pages: 418
Genre & Keywords: Fantasy
Part Of A Series? YES, Book 1 of a trilogy.
Other Books From Author: Days of Blood and Starlight (BOOK 2), Dreams of Gods and Monsters (BOOK 3), Dreamdark series, Goblin Fruit, Spicy Little Curses
Why I Picked This Up: I was dying to figure out what on earth this book is about– everyone LOVED it but kept the story hush-hush. D-Y-I-N-G.
Amazon | Goodreads | @lainitaylor |
TELL ME ABOUT THIS BOOK!
Blue-haired orphan, Karou, doesn't know where she comes from. On the one hand, she's a 17 year old art student in Prague; on the other, errand-girl to a monstrous creature in 'Elsewhere', Brimstone, the closest thing she has to family. She has never understood Brimstone's dark work – buying teeth from hunters and murderers – nor how she came into his keeping. Now the doors to Elsewhere are closing, and Karou must choose between the safety of her human life and the dangers of a war-ravaged world that may hold the answers she has always sought.
REACTION UPON FINISHING
Damn you, Laini Taylor.